Dodge City Dominates Seward Pitching in Sweep
KSCB News - March 11, 2014 7:12 am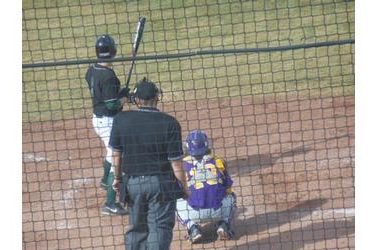 Dodge City pounded Seward's pitching staff Monday to the tune of 22 runs, 28 hits, and six home runs. The Conqs evened their series with Seward by battering Seward 7-2 and 15-14. Seward's rotation was thrown out of wack by the fact that Seward played two conference games on Thursday. Galen McSpadden inserted three starting pitchers in the series who had not started games this season for the Saints. The results were not good. Seward's game one starter Monday made it three innings and their game two starter didn't make it out of the second.
The Conqs won the first game 7-2 by scoring seven unanswered runs. The Saints scored two in the second. Kevin Connolly hit a home run to help the Saints take a 2-0 lead in the second. Dodge City scored five runs on four hits and three homers in the third.
Seward struggled mightily on the mound in game two. Consider Seward scored 10 runs in the first three innings and still lost. The Saints scored four in the first, two in the second, and four in the third to lead only 10-7. The Conqs scored four in the fourth and three in the fifth but it was the run they scored in the eighth which was the difference. Bryson Allen homered and tripled in the loss and was 8-13 on the weekend. Connolly and Jake Fuller added three hits a piece.
Seward is 5-7 their last three trips to Cavalier Field. The Saints are 14-10 overall and 5-3 in the Jayhawk West. DC3 is 14-5 overall and 5-3 in the Jayhawk West.
Seward hosts Garden City Saturday and Sunday at 1 on 1270 and kscbnews.net.