Dodge City Dominates Liberal
Brock Kappelmann - October 26, 2019 6:22 am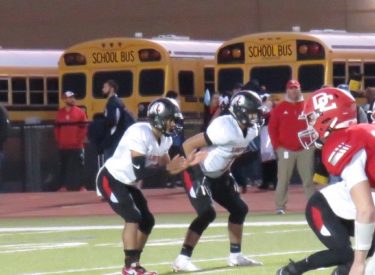 Dodge City put up 565 yards of offense while holding Liberal to 180 in a 45-6 Dodge City win over the visiting Liberal Redskins Friday night.  Fans in attendance saw plenty of fireworks after Dodge City touchdowns Friday night at Memorial Stadium.
Dodge City used the gadget of all gadgets to score first.  They used a 70 yard hook and lateral to tackle Aaron Nelson for the score at the 1:06 mark of the first quarter.  Dodge City quarterback Beau Foster used a a 35 yard throw back screen to Dejon Delgado for a score with :04 remaining in the first quarter to lead 14-0.  Matt Friess returned a punt 59 yards for a score early in the second quarter.  Foster intercepted a Dunlap pass leading to an Alden Knedler eight yard TD to make it 28-0.  Dunlap's 80 yard TD run made it 28-6.  Dodge City's Jose Valverde kicked a 25 yard field goal to make it 31-6.   That was the halftime score.  Foster's 18 yard run at the 9:22 mark or the third quarter made it 38-6.  Friess intercepted a Dunlap pass.  Knedler's 21 run and five yard run made it 45-7.  Liberal's Shay Kerr intercepted a pass for a Redskin second half highlight.  Dunlap rushed for 179 yards and had 179 of Liberal's 180 net yards.
Liberal is 2-6 and has lost six straight.  The Redskins have lost eight straight WAC games since winning in Dodge City in 2017. Dodge City is 8-0 and win the WAC and 4-0.   Liberal plays a 7-0 Maize Friday night in the 5A playoffs.  Redskin Pre-game begins at 6 on 1270 and kscbnews.net.
Audio, first half of game:
Audio, halftime and second half of game: