Dodge City Dominates Liberal
KSCB News - September 27, 2014 7:37 am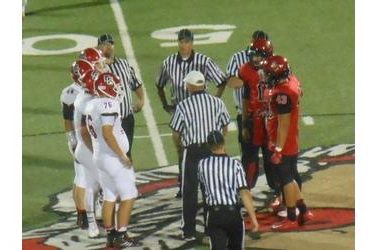 The Liberal Redskins took a step back Friday night. In a game LHS head coach Caleb Cline called a heartfelt loss, Dodge City routed the Redskins 52-20, and it wasn't that close. The Red Demons used primarily screen passes to amass 462 yards of total offense while Liberal moved the ball at times with 296 yards but were penalized far too often. Penalties hampered two Redskin drives inside the 20, one in the first quarter which ended in a turnover and one at the end of the half after Liberal advanced to the 11 but faced a 4th and 32.
Dodge City scored first on a double pass when Bryce Unruh tossed over the top to a wide open Dayton McGroarty for a 52 yard score from the first play from scrimmage. It's the second straight week a Liberal opponent scored on their first play. Quarterback Caden Walters tossed a 21 yard screen pass for a score to Tyler Trent for a 21 yard score at the 6:51 mark of the first quarter to make it 14-0. Liberal marched inside the 20 but penalties and utimately a Redskin fumble game DCHS the ball back. The Demons would convert the drive into three points with a Sebastian Mejia 41 yard field goal. It was 17-0 Demons after one quarter. A Walters five yard TD score made it 24-0 at the 9:33 mark in the second quarter. Liberal finally scored when Jared Carroll burst up the middle for a 36 yard run and Hasik finished with a one yard sneak for a score but the point after failed to make it 24-6 with 8:49 to play. The Redskins then got a defensive stop and drove the the Demon 11 but holding calls pushed LHS back to a 4th and 32. Liberal did not convert giving DC the ball back. Walters found the speeded Mark Adams on a screen pass which went 58 yards for a score with 10 second left before half. It was 31-6 Dodge at the half.
Liberal showed very little resistance early in the second half. Trent took it in from 29 yards out to make it 38-6 at the 9:34 mark. Liberal fumbled on the ensuing possession and Mejia recovered for the Demons at the Redskin 20. A Walters one yard sneak made it 45-6 with 6:04 to play in the third. Hasik found Stevie Lira for a 12 yard TD at the 10:38 mark to make it 45-12 after the two point attempt failed. Walters found McGroarty for a 14 yard score to make it 52-12 with 8:25 to play. A Rex Heronemus six yard score made it 52-20 with 2:10 to play.
Dodge City wins their WAC opener and is 3-1. The Redskins are 1-3 and have lost seven of the last nine to Dodge. Liberal is 0-2 in the WAC. LHS plays at 1-3 Garden City Friday night with Redskin Pre-game at 6 and kickoff at 7 on 1270 and kscbnews.net.