Dodge City Continues Liberal's Home WAC Woes
Brock Kappelmann - September 12, 2020 7:22 am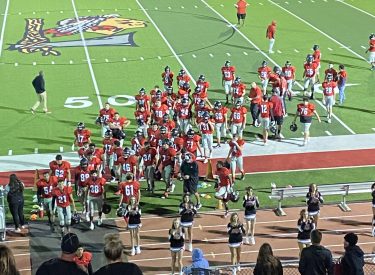 Liberal will have one more chance this season to stop a dubious streak.  Liberal has now lost 24 consecutive WAC home football games.  Their last came four coaches ago under Tom Schroeder back in 2008.  Friday night, Dodge City's Red Demons feasted on early Redskin turnovers and shaky special teams for a 35-0 win at the Gary Cornelsen Sports Complex.
A Redskin first quarter fumble recovered by the Demons at the Redskin 32 led to a 27 yard touchdown pass from Tucker Smith to Matt Friess.  Friess returned a punt 59 yards for a score and a 14-0 lead.  Liberal's Cameron Snodgrass recovered a fumble forced by Hunter Huskey on the 49.  Liberal fumbled two more times in the second quarter with the last fumble setting up Dodge City at the LHS 45.  That led to an Alden Knedler 31 yard pass to Friess to the one.  Knedler's one yard run gave DCHS at 21-0 lead with 14 points off turnovers.  That was the halftime score.
In the second half, the Skins gained two Demon turnovers but couldn't do anything with it on offense.  Freshman Aidan Schwindt intercepted a pass.  Liberal would force Dodge City to punt but Liberal roughed the punter leading to a first down and a Smith 20 yard TD pass to Friess.  to make it 28-0.  Liberal's Tony Rivero stripped the ball and Jim Bangs recovered with 9:46 to play.  Knedler's 64 yard pass to Friess capped off the night with a long score to make it 35-0 with 8:24 to play.
Dodge City had 317 yards and Liberal gained 210.  Liberal is 0-2 and 0-1 in the WAC and Dodge City is 1-1 and 1-0 in the WAC. It's the first LHS shutout loss since a 20-0 loss to Hays in 2017.   Liberal plays at Hays Friday night at 7 on 1270 and kscbnews.net.