Dodge City Commissioner, Former Kismet Resident, Passes Away
KSCB News - May 21, 2013 4:31 pm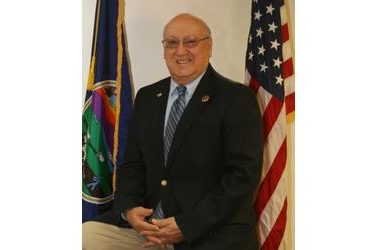 Dodge City Commissioner Jim Sherer, a former Kismet resident and graduate from Kismet High School in 1960, passed away early Tuesday from complications of Pulmonary Fibrosis and Rheumatic Arthritis
. He was born April 15, 1942, at Canton, Ohio, the son of John H. and Frances G. (Hendrichs) Sherer.
Jim married Nancy White on June 9, 1963, in Dodge City.
After graduating from Kismet High in 1960, he went on to complete his Associate of Arts in 1962 at Dodge City Community College. Jim then attended Pittsburg State University where he completed his BS in Education in 1964, then his Masters in History in 1965.
Jim spent 13 years at Dodge City Community College in Administration until 1979. He then served as Executive Director of Boot Hill Museum from 1979 to 1991, returning to the Community College in 1992, where he spent another 8 years in Administration. In 2000, he became the Director of the Kansas Heritage Center until he retired in 2007.
With a servant's heart, he was elected to the Dodge City Commission in 2004, and was fortunate to have the honor to serve as Mayor from 2006 to 2007. Jim continued to serve as Commissioner until his passing. Sherer has served on the League of Kansas Municipalities Governing body since 2008, serving as Vice-President in 2010/2011 and President in 2011/2012.
Mr. Sherer has served his City and his State in many capacities with the goal of improving the lives of each citizen through the Arts, History, and Education. His greatest passion was the History of Dodge City and the Santa Fe Trail. He served as a Founding Member of the Dodge City/Fort Dodge/Cimarron Chapter- Santa Fe Trail Association in 1991.
His other passion was singing. Jim was a member of the First United Methodist Church of Dodge City and he served in the church choir since 1967. He has sang for hundreds of weddings and funerals, and always gave his best performance.
Jim has the singular honor of being an Honorary Marshal of Dodge City since 1982. He has worn the badge with pride as he spreads the good cheer of Dodge City. Jim was elected to the Dodge City Community College Hall of Fame in 2011 for Outstanding Service.
Jim is survived by his wife, Nancy (White) Sherer of the home; daughter, Kristen (Sherer) Miller and husband Christopher of Manhattan; son, Dr. Ryan Sherer and wife Dr. Rachelle (Woods) Sherer of Huntingburg, Ind.; son, Tyler Sherer of San Diego, Calif.; and daughter, Kerri Kannaday and husband Chad of Fort Jackson, S.C.; grandchildren, Cale Miller, Alexandra Miller, and Emma Miller; Evalyn Sherer, Wyatt Sherer, Dorothy Sherer, and Ruth Sherer; Cooper Sherer and Charlotte Sherer; Caden Kannady, Patrick Kannady, and Abigail Kannady; siblings, Jack Sherer and wife Mei-Yi, Kathy Sherer Worley, Dave and Mucrita Sherer. He was preceded in death by his father, John H. Sherer and his mother, Frances G. (Hendrichs) Sherer.
Funeral service will be held at First United Methodist Church on Friday, May 24, 2013 at 10 a.m. with the Rev. Lance Carrithers and Mr. Jeff Hiers presiding. Burial will follow at Maple Grove Cemetery in Dodge City. Visitation will be at Swaim Funeral Home, Dodge City, on Thursday, May 23, 2013, from noon to 8 p.m. Memorials are suggested to Dodge City Chapter of the Santa Fe Trail Association or Hospice of the Prairie, in care of the funeral home. Thoughts and memories may be shared in the online guest book at www.swaimfuneralhome.com.