Dispute in Kansas Over Change in Policy for Food Assistance
Steven Rains - June 28, 2019 6:54 pm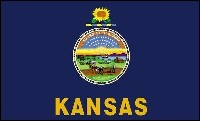 A dispute is escalating in Kansas between top Republicans and Democratic Gov. Laura Kelly's administration over a policy change making it easier for adults who are not working to keep receiving food assistance.
The state Department for Children and Families on Friday released an internal analysis defending the legality of the change, made in May. The department has said the change will help the homeless and young adults aging out of state's foster care system and that recipients could receive extended benefits through September.
The agency released its analysis in responding to a letter earlier this week from Republican Attorney General Derek Schmidt. He told the department's top administrator, Secretary Laura Howard, that the change "appears to conflict" with a 2015 state law setting tougher rules for food and cash assistance.
Top Republicans in the GOP-controlled Legislature contend the change violates the 2015 law, which included a work requirement and have promised that a committee will review the issue later this year.
House Majority Leader Dan Hawkins, a Wichita Republican, said Friday that the department's legal analysis does not change his mind. He said a lawsuit to block the change "certainly is a possibility," though a spokesman for Schmidt said only that his office is reviewing the response.
The federal government pays for food assistance and covers half of each state's administrative costs. It generally limits able-bodied adults age 18 to 49 without dependents to three months of assistance within a three-year period if they aren't working or enrolled in job training.