Digital TV Transition Today
KSCB News - June 12, 2009 12:00 am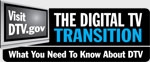 Attorney General Steve Six reminds consumers that at 12:01 a.m this morning, broadcast stations began transitioning from analog to digital signals. Those who subscribe to cable or satellite services will be unaffected, however, antenna users may be without a picture.
The Kansas Attorney Generalź??s Office reminds consumers that to continue receiving signals, televisions must be hooked up to a converter box that turns digital signals into a signal their television can understand. If consumers have this digital converter, a digital television is not necessary. It is also not necessary to purchase a ź??HDTVź?ť or High-Definition television to receive a digital signal.
The government is offering $40 vouchers ź?? two per household ź?? to offset the cost of the change. Consumers must rescan their converter box in order to receive the new signals. Vouchers for digital converter boxes are still available through July 31 while supplies last from the Federal Communications Commission www.dtv2009.gov or 1-888-DTV-2009.
Consumers can call 1-888-CALL-FCC to obtain more information about the digital transition