Dickman's Grand Slam Lifts Bee Jays Past Cannons
Brock Kappelmann - June 3, 2019 1:30 pm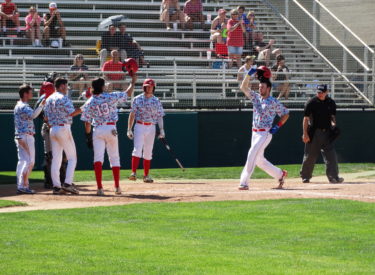 One swing of the bat changed the complexion of the game.  It was a 4-2 game in the bottom of the fifth until Blake Dickman launched a grand slam over the left field wall.  That gave Liberal an 8-2 lead on their way to a 12-5 win over the visiting Kansas Cannons Sunday afternoon at Brent Gould Field.
It was a frustrating start for the BJ's who stranded 10 runners in the first four innings.   The Cannons scored in the first against BJ starter Jon Sotto.  Liberal answered on a scary play in the bottom of the inning.  Corbin Truslow lined a single off the face of Cannon pitcher Jordan Ellison.  That scored a run.  The line drive struck the nose of Ellison who was taken to Southwest Medical Center.  He was treated and released.   Justin Quinn ripped a triple in the second and scored on a Brandon Holdren single to give Liberal a 2-1 lead.  The Cannons tied it with an unearned run in the third.  Liberal took a 3-2 lead in the third on a Jordan Williams sac fly to left.  Quinn singled home a run in the fifth for a 4-2 lead.  Dickman's blast gave Liberal an 8-2 lead.  They added two in the sixth as Quinn doubled home a run and Holdren hit a sac fly.  Williams doubled and scored on an RBI double by Holdren in the eighth.
Sotto pitched five strong innings allowing one earned run.   Danny Medlock pitched two scoreless to close it out.  Liberal wins their first ever KCLB series 3-1 over the Cannons.  The Bee Jays play non league games in Augusta against the Cannons on Tuesday and Wednesday at 7.  The next 10 games are on the road for Liberal.  Their next game in league and on KSCB Talkradio 1270 is Friday in Park City.
Doug Law with the Kansas Cannons sent out a statement regarding the injury to pitcher Jordan Ellison.  "Our pitcher, Jordan Ellison, was treated and released at the hospital there in Liberal.  The staff there was excellent!  He experienced quite a bit of swelling around his nose and eyes and will follow up with his doctor in Wichita.  The Cannons appreciate the support and assistance we received from the Bee Jay organization and the Liberal community."