Diaz Duck Dominates 2020 Chamber Duck Race
Joe Denoyer - August 15, 2020 2:09 pm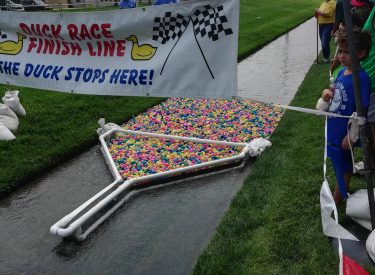 sdr
The Liberal Chamber of Commerce celebrated the 2020 Duck Festival in Light Park on Saturday. There was food, fun and festivities all day long culminating with the "Duck Race" at 1:00pm.
Activities throughout the day included the Seward County United Way Chili and Taco Cook Off, Ducky Downs, Fireman's Water Fight and the KSCB Truck, Bucks and Cornhole Tournament.
Winners in the Duck Race, the top eight and the "Hard Luck Duck" were: Gaby Diaz in 1st, winning $5000, Jane Harding 2nd, $2000, Tracy Carlile 3rd and $1000, Matt Hall, 4th,$500, James Archer ,5th $400, Brandie Winter, 6th, $300, Matt Graham, 7th $200, and Sherri Castillo in 8th for $100. The Lucky Duck picked belonged to Alma Arenivas and was good for $500.
In the Chili, and Taco Competition Sponsored By the Seward County United Way, Brookdale Liberal Springs took 1st Place, Crossroads in 2nd, with Southwest Medical Center in Third. People's Choice went to Southwest Medical Center.
On the Taco side, Chilanglandia took 1st, Aurovas in 2nd and Veggie Tacos for 3rd.
Jose Torres and Danny Loesch won the Fireman's Water Fight.