Derby Wins Pitcher's Dual
KSCB News - July 1, 2013 7:37 am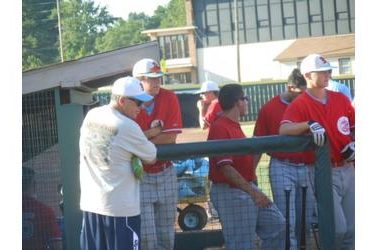 The Derby Twins won a pitcher's dual 1-0 in 10 innings Sunday night at Panther Field in Derby. Texas Tech's Justin Bethard pitched eight and one third brilliant innings for the Bee Jays in the loss. He struck out eight and allowed just three hits. But Liberal stranded eight runners on base and in the bottom of the tenth, Derby's Stephen Carabajal blasted a homer over the right field wall.
the BJ's had chances. Brady Capshaw singled and Jon Mestas doubled to place runners at second and third with one out in the fourth but two ground outs ended the inning. A lead off single by Zach Reding gave the BJ's a promising start to the fifth. But Tanner Rainey laid a drag bunt down first and was called out on a highly questionable call. That would have givin the BJ's runners at first and second with no out.
Liberal is 14-11 overall and 8-11 in the Jayhawk League. Derby is 11-11 and 9-11 in the Jayhawk. The BJ's win the series and the two teams split the season series.
Liberal hosts the Owasso Angels at 7 Monday night at Brent Gould Field. Yancey Insurance is the buyout sponsor.