Derby Takes Pitcher's Dual
KSCB News - June 28, 2014 6:56 am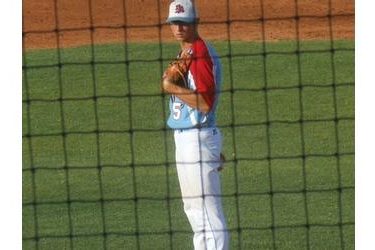 The Derby Twins are now 4-0 against the Liberal Bee Jays after a 3-2 win at Brent Gould Field in Liberal Friday night. JB Olson pitched seven strong innings without allowing an earned run in the loss.
Even though the BJ's didn't allow the big inning against their opponent, they had one bad inning defensively that made the difference in the game. In the eighth, one Derby hitter reached on an error and another reached on an infield pop up which actually landed on the mound for a single without being touched. The Twins scored three unearned runs in that third. The Bee Jays came back in the bottom of the inning with two runs after loading the bases with no outs. Brady Cox drove home a run with a single and Liberal scored the other run as they grounded into a double play.
JB Olson pitched seven innings without an earned run with six strikeouts and no walks in the loss. Chad Nack pitched an inning and Blake Rogers tossed an inning. Both did not allow earned runs and struck out two.
Derby out-hit the BJ's in this game 11-5 and won behind their big lefty Drew Milligan who beat the BJ's for the second time this season and is 4-1.
Liberal is 10-11 and 6-11 in the Jayhawk and Derby is 10-5 in the Jayhawk. The same two teams meet at Brent Gould Saturday night at 7 on 1270 and kscbnews.net. The Bank of Beaver City is the buyout sponsor.
In a wild night in the Jayhawk, Dodge City blanked Wellington 6-0 at Wellington and El Dorado won 3-2 in 10 at Hays.
Wellington 14-2
Derby 10-5
Hays 8-9
El Dorado 6-10
Liberal 6-11
Dodge City 5-12