Derby Draws Even with BJ's in Series
Brock Kappelmann - June 8, 2017 6:58 am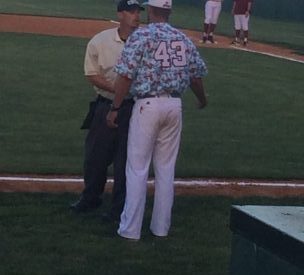 The Derby Twins wanted it.  You could hear the noise reverberating through their dugout as they rallied from down 4-2 to winning 7-4 Wednesday night at Brent Gould Field.  The Bee Jays did not score in the game's final eight innings.  The Twins scored five in the final seven.
The Twins scored twice against BJ starter Cole Jenkins in the first.  The first three Derby hitters singled and the Bee Jays were saved by their defense.  Both shortstop Jaron Robinson and second baseman Zac Cook made diving stops for outs.  Liberal came back with four in the first as Cook, Trent Maloney, and Cale O'Donnell opened the inning with singles.  O'Donnell singled home a run.  Robinson and Nate Crossman added RBI singles and a run scored on a Derby error on a throw from third to first.  But Liberal was finished offensively.  After a four run five hit first inning, they have five hits the rest of the game.  They did not have a multi hit inning after the first.
On the mound, the starter Cole Jenkins lasted three innings allowing two runs.  Lowell Schipper pitched two innings allowing two runs.  Thomas Garland pitched two allowing three runs.  Chance Carner was impressive pitching the final two innings allowing no runs and striking out four.
Liberal is 2-2 and Derby is 3-1 in the Jayhawk League.  The same two teams play Thursday night at 7 at Brent Gould Field.  It airs on kscbnews.net and on 1270 if 1270 is working.  But the broadcast will be on kscbnews.net.  Yancy Crane is the buyout sponsor.  It's Liberal's last home game until June 16.