Denver Ends Bee Jays' 11 Game Win Streak
Brock Kappelmann - June 30, 2020 7:10 am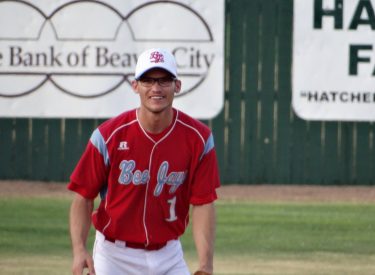 The Liberal Bee Jays lost for the first time since June 11 Monday night.  The Bee Jays experienced a rare sloppy night on the mound walking eight and beaning four paving the way for a 16-12 home loss to the Denver Cougars Monday night at Brent Gould Field.  The Rockies released Kelby Tomlinson who stepped in and played for the Bee Jays Monday night.  It was his first appearance in a BJ uniform since 2011.
The Bee Jays got off to a strong start.  Liberal scored five in the first inning after RBI singles by Cayde Ward and Wyatt Grant.  Bryce Donovan blasted a three run homer to left to make it 5-0.  Denver scored three in the second.  Tomlinson launched to left for a homer in the second to make it 6-3.  The Cougars scored four runs in the third for a 7-6 lead.  Aiden Shepardson doubled home a run in the third to tie the game.  But Denver broke through in the fourth with five runs and two homers to lead 12-7.  Wyatt Grant singled home a run in the fourth to make it 12-8.  Denver added a fifth inning run to lead 13-8.  The C0ugars tacked on one in the eighth and two in the ninth while Liberal scored two in the eighth as Jack Malone singled home a run and Liberal scored two in the ninth ad Grant doubled to lead off the inning and Donovan doubled him home.  Caeden Trenkle grounded out to score a run.
Liberal outhit Denver 14-12 but walks and beanballs were an issue.  Liberal falls to 11-2 and Denver is 11-4.  The same two teams play Tuesday night at 7 at Brent Gould Field with the Dugout Show at 6:45 on 1270 and kscbnews.net.  Southwest Medical Center is the buyout sponsor and will give away a cooler and 250 dollars worth of Bee Jays merchandise.