Dennis Hopper Sculptures Unveiled In Dodge City
KSCB News - May 22, 2013 8:56 pm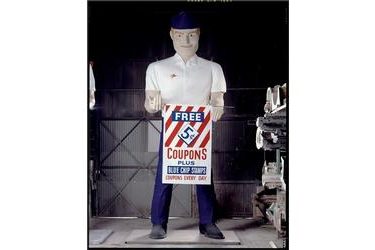 The city's newest residents have the whole community talking and wanting to get a glimpse. Fiberglass sculptures over 20 feet tall have that effect on people.
La Salsa Man and Mobil Man are two of native son Dennis Hopper's best-known sculptures, and they are Dodge City's newest residents.
"We've had every comment that you can imagine from 'Oh my goodness, what are they?' to "Those are amazing,' so it's been a big discussion for us, but it's been an overall positive thing for the community," said Summer Bates, executive director of the Carnegie Center for the Arts in Dodge City, who led the effort to get the sculptures to Dodge.
La Salsa Man, measuring 26 feet, and Mobil Man, standing at 21 feet, are currently being housed at the Western State Bank Expo Center. They were unveiled to the public Tuesday evening.
City leaders say there is a tourist demand for works like these, inspired by the "muffler men" roadside attractions of yesteryear.
"This is something through our research that we found that people travel all over the United States to see them," said Melissa McCoy, project development coordinator for Dodge City. "We think it'll be a huge draw and we're very fortunate to have them here."
Hopper was best known for his on-screen prowess in films like Easy Rider and Speed, but he was also a dedicated artist. He was born in Dodge City and spent some of his childhood in southwest Kansas before moving to California, but after his passing in 2010, his estate was looking to donate some of his artwork to his hometown.
The long-term goal is to make the sculptures the centerpiece of a proposed multi-cultural park in Dodge City.