Delano Jones Signs at Cameron
KSCB News - May 3, 2016 2:20 pm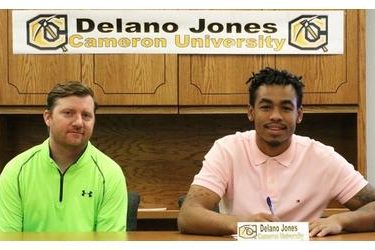 Saints rifleman Delano Jones signed on the dotted line Tuesday in the All-American Room at Seward County, making NCAA Division II Cameron University his choice for the final two years of his basketball and academic career.
Jones put up 11.1 points per game in his only season in green and white for the Saints in 2015-2016. The Peoria, Illinois native had some memorable games for the Saints during his sophomore season, reaching double figures 18 times including a season high 22 on the road at Cowley early in the year. Jones ranked 2nd in the Jayhawk Conference with 76 three pointers made this season, making at least one triple in 29 of the Saints 31 games on the year. He hit from the outside at a clip of 41.8% on the year, putting him 7th on the league leaderboard.
Jones will join a Cameron squad on the rise as the Aggies are coming off of a 16 win season and their first winning season in Lone Star Conference play in three years. The Aggies will return eight players to the fold in 2016-2017 but will count on an offensive boost from Jones right away after losing three of their top four scorers from a season ago.
Jones said of his year in Liberal "I really wish I would have come here for two years. The people here are like family. My teammates, my coaches, the community, and the faculty at Seward have truly made it somewhere that I love."
Roy Allen