Deja Vu for Lady Saints
KSCB News - November 26, 2011 3:21 pm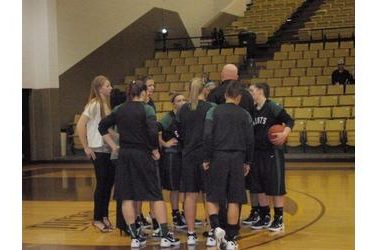 One day after out-playing an opponent in the first half and losing the game, the Lady Saints led by 13 in the first half but lost 71-60 to New Mexico Junior College Saturday afternoon at the Perryman Center in Garden City. Tenth ranked Seward has lost two straight and is 7-2 while the Lady Thunderbirds are 10-1.
The Lady Saints built first half leads of 17-7, 22-9, and 24-12 before settling for a 28-25 halftime lead. NMJC out-scored the Lady Saints 46-32 in the second half.
Seward struggled offensively as their five starters were 4-39 from the field. Payton Fleming led Seward with 14 points and 4-7 shooting from three point range. Mariah Lee was the lone Seward starter in double digits with 14 points and Charmaine Burns added 14.
Seward shot just 30 percent. NMJC shot 21 percent in the first half but hit 52 percent in the second half.
The Lady Saints play Barclay Friday at 1:30 in Hutchinson. The next game on the radio is Saturday at 1:30 against #16 State Fair on Talkradio 1270.