Defense the Difference for Lady Saints
Brock Kappelmann - February 6, 2021 7:48 pm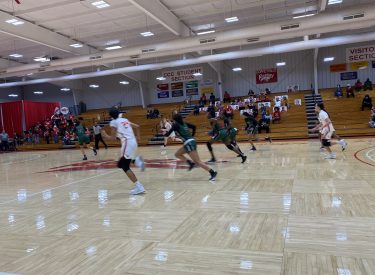 The Seward Lady Saints worked more on their defense in practice this week, and it showed.  Seward held Coffeyville in check on the way to a 63-54 win at Nellis Hall in Coffeyville Saturday afternoon.  The Lady Saints held the Lady Ravens to 28.6 percent shooting and forced 26 Coffeyville turnovers in the win.
Seward took an early 9-4 advantage on the parquet
floor in Coffeyville, as limited numbers of fans were allowed to be in attendance for the first time this season.  The game was tied 14-14 after one.  Seward bolted ahead 26-14 and 36-19 in the second quarter.  The gals in green led 38-21 at halftime.  The Lady Saints built a lead of 22 at 43-21.  The Lady Ravens crept back into the game due to Seward fouls and ensuing Coffeyville free throws to make it 49-35 after three.  Coffeyville cut the SCCC lead to three at 51-48 with 5:39 to play.  In the next four minutes Seward built a lead of 60-49.
Seward I'd not have a great shooting day hitting 36 percent from the field, 6-24 from three, and 11-22 at the foul line.,,Coffeyville was 22-36 at the free throw line and 4-18 from three.
Sierra Morrow had 14 points and eight rebounds.  Sierra Lynch had 13 and nine rebounds.  Delma Zita added 11.
Seward is 3-0 and Coffeyville falls to 2-2 in the KJCCC.  Seward is 21-3 against Coffeyville.  Seward plays at Neosho Wednesday night at 6 with Saints Shoot-around on 107.5 and kscbnews.net.