Defense Powers Saints Past Lopes
Brock Kappelmann - November 4, 2018 9:49 am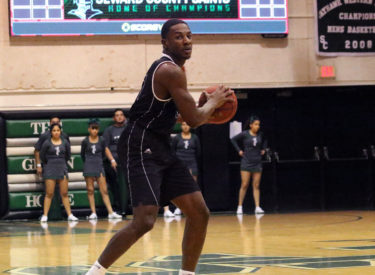 Ian Applegate
LIBERAL, Kan. – It was another strong defensive performance for the Seward County men's basketball team, beating the Lamar Lopes 59-49 to move to 2-0 on the season. It marks back-to-back games that Seward has held an opponent to under 30 percent shooting on the game.
After jumping out to a 9-4 lead over the first five minutes of the game, the Saints offense stalled, allowing the Lopes to go on an 11-2 run to take a 15-11 lead at the media timeout. Two free throws by Julian Santamaria ended the run and began a switch in momentum.
With under five minutes left in the half, an acrobatic layup by Montrevion Flowers tied the game at 19 before Isiah Small gave Seward a lead on the next possession. After taking the lead, Seward would not trail for the remainder of the game. Devin Bethely gave the Saints a cushion at halftime, making a three from the top of the key to make the score 28-23.
Coming out of the break, the Lopes scored four straight to make it a one-point game, but the Saints had an answer in the form of Marco Morency, scoring eight of the next ten Seward points as they went on a 12-0 run. The Saints held an 11-point advantage heading into the final media timeout, leading 46-35 following a Hegel Augustin free throw.
Seward was held scoreless for nearly five minutes, but their tenacious defense limited the Lopes to cutting into the deficit too much. Lead by just five points with five minutes to play, Small and Augustin combined for four points to push the lead back to eight points before eventually going up double-digits again with a Bethely midrange jump shot. Seward held on to their double-digit margin, winning 59-49.
It was not a game that featured high power offense, as the two teams combined to go just 4-32 from behind the arc. The Lopes were held to an abysmal 8.3 percent (1-12) from the three, while the Saints went 3-20 (15 percent) from deep. While Seward struggled from behind the arc, the hit 40.8 percent (20-49) from the floor.
Defense was the name of the game in this one, as the Saints came away with nine steals, led by Augustin's three and forced Lamar into 26 turnovers. Four Saints did, however, score in double-figures – Flowers (13 pts), Small (13 pts), Bethely (12 pts) and Morency (10 pts). Small was one rebound shy of a double-double.
Seward will return to the Greenhouse next Friday (Nov. 9) for the Pepsi Classic as they host No. 2 and defending NJCAA National Champions South Plains at 8:00 p.m. The game will be a "Black Out" for Saints fans.