Defense Leads Liberal Girls Back to State
Brock Kappelmann - March 4, 2018 7:20 am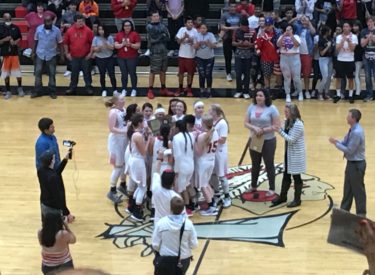 For the first time since 2009, the Liberal Lady Redskins have won sub state to qualify for the 5A state tournament in Topeka.  Liberal's defense is the reason why.  LHS beat Goddard 34-32 in front of a frenzied Big House crowd Saturday evening.
This was a low scoring game throughout.  Liberal trailed 6-5 after one quarter before taking a 16-10 lead at halftime.  The Lady Red took a 19-10 lead early in the second half after a Machia Mullens three pointer but never scored again in the third as the Lady Lions went on a 12-0 run to lead 22-19 after three.  Whitney Hay and Ali Lucero nailed clutch three pointers in the fourth quarter.  Hay's 3 made it 28-24 Liberal and Lucero's 3 made it 31-26.  Goddard closed that lead to 31-30 with 1:40 to play. Liberal made just enough free throws in the closing minute.  Goddard turnovers helped Liberal's cause and an all important Aubrey Warden offensive rebound after a missed free throw with Liberal leading 32-30 gave LHS just enough to push across the finish line.
Goddard was 1-14 from three point range and 14-16 at the foul line while Liberal was 3-14 from three and 11-17 at the foul line.  Katie Horyna led Liberal with 14 points and Machia Mullens had 10.  Ali Lucero added seven in her final game in the Big House.
Liberal makes state for a 12th time in school history.  It's the first time Liberal won a sub state at home since 1998 when they defeated Bishop Carroll while a blizzard ensued outside.  The Lady Redskins are the number one seed at state and will play Thursday at 6:30 on 1270 and kscbnews.net.  Liberal is 21-1 and the one seed playing 8-14 eighth seeded St. Hanes Academy from Kansas City. Goddard finishes 11-10. LHS will be seeking their first win at state since 1987.