Defense Leads Lady Saints to Overtime Win Over Butler
Brock Kappelmann - January 20, 2022 6:42 am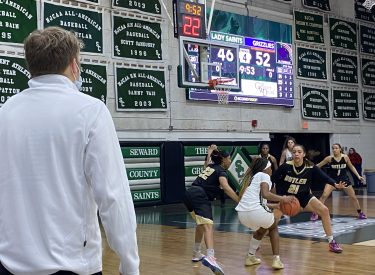 The Seward Lady Saints had just enough to top the Butler Lady Grizzlies 68-67 in overtime Wednesday night in the Green House.  Seward won despite shooting 28 percent for the night and 18 percent in the second half.  It snaps a three game losing streak against Butler.
The Lady Saint offense was revved up in the first half.  Seward built a 17-10 lead in the first quarter and led 17-13 after one quarter.  Seward led 22-16 and led 25-18 with 5:58 to play in the third quarter.  Seward led 27-20 and led 33-23 before a 39-29 lead at the half.  Zhane Thompson and Halima Salat made three 3 pointers each in the first half.  Seward went as cold as Wednesday night's weather in the second half.  Butler outscored Seward 23-7 in the third quarter and the Lady Grizzlies grabbed a 52-46 lead after three quarters.  Seward rallied to tie the game 60-60 with :54.6 seconds left.  Seward grabbed a 62-60 but Butler tied the game.  Seward missed two free throws with 3.8 seconds left and a chance to tie the game.  The game went into overtime.  Seward led 64-62 and Butler lead 65-64.  Sydney Wetlaufer's right corner three pointer gave the Lady Saints a 67-65 lead with :42 seconds left.  Sierra Lynch made 1 of 2 free throws to lead 68-67.  Butler's shot in the high lane at the buzzer secured Seward's 68-67 overtime win.
Seward forced Butler to 27 turnovers and 38 percent shooting.  Seward won despite their 28 percent shooting night.  Zhane Thompson had 17 points while Halima Salat had 15.  Sierra Lynch had 10.  Jailyn Johnson and De'Shanti Thomas were key players on defense.  Johnson had seven points and eight rebounds and Thomas had six rebounds.
Seward defeats Butler for the first time since November 26, 2019.  Butler had won three in a row.  Seward moves into sole possession of third place in the Jayhawk.  Seward is 13-6 overall and 9-4 in the Jayhawk.  Butler is 13-5 overall and 8-5 in the Jayhawk.  Seward plays at Colby Sunday at 2 pm with Saints Shoot-around at 1:45 on 107.5 and the KSCB and The Legend App.