Defense Keys Lady Saints 17th Straight Win
Brock Kappelmann - February 10, 2019 8:25 am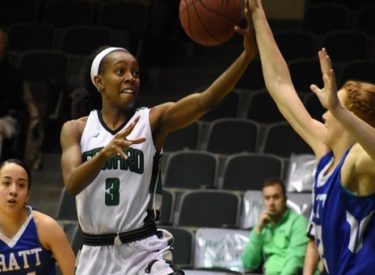 Tenacious defense and key free throws in the final four minutes of the game keyed the sixth-ranked Seward County Community College women's basketball team to its 17thstraight win with a 66-59 victory over the Pratt Lady Beavers on Homecoming at the Greenhouse.
Silvia Veloso had a team-high 21 points to lead five Lady Saints in double figures. Vonda Cuamba had 11 points while Carla Covane,Lexi Hernandez and Aquila Mucubaquirechipped in with 10 points each. SCCC improved to 14-1 in the Jayhawk West and 22-2 overall.
After Pratt moved to within one at 58-57 with 4:39 remaining, the Lady Saints put the clamps on and held the Lady Beavers to just two points the rest of the game. Seward iced the game with eight free throws the rest of the way. Veloso hit four free throws while Hernandez and Karolina Szydlowska added two points each from the charity stripe to ice the game.
Seward held Pratt to just 39.4 percent from the field (26-of-66) and only turned the ball over a season-low nine times. The Lady Saints did not shoot the ball well either, hitting only 38.6 percent of its shots (22-of-57), but held a big advantage in free throws. The Lady Saints went to the line 25 times, hitting 17 shots, while the Lady Beavers went only six times, making five of them.
Courtney Cleveland led Pratt with 17 points while Rachel Tippens had 11 points and ChaDricka Pickett added 10. The Lady Beavers fell to 9-6 in conference play and 16-7 overall.
SCCC travels to play Dodge City on Monday, February 11 at 6 p.m.