Defense Does Enough in Lady Red Win
Brock Kappelmann - December 12, 2020 7:42 am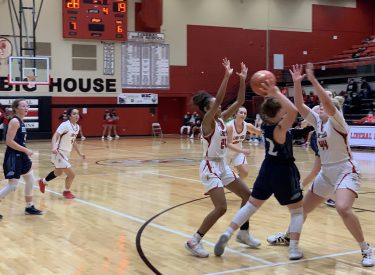 Liberal endured a cold shooting night but still won.  The Lady Red offense was almost as ugly as LHS coach's Christmas sweaters in Friday night in the Big House.  However, Liberal's defense sparkled and led to enough Lady Redskin offense in a 42-26 win over visiting Scott City in the home opener in the Big House.
Liberal led 4-3 after a quarter and 13-9 at the half.  Liberal's lead was 28-19 after three quarters.  LHS led twice by 16.
Liberal made just 2-15 three pointers but Scott City was 0-6.  LHS was 9-17 at the foul line and Ashley Carrillo was 6-8.  The Lady Beavers were 7-14 at the foul line.
Ashley Carrillo had 14 and Bree Horyna added 12.  Horyna was the Epic Touch Player of the Game for her production and hustle, diving on the floor to save several possessions.  Reece Hay made Liberal's only two three pointers and scored six.
Liberal is 4-0 and has won 30 in a row in the Big House.  Scott City is 1-2.
Although the two teams played two years ago in Scott City (Liberal won 60-26), it was Scott City's first trip to the Big House since 2014. Former Seward basketball player Amy Felker (Amy James) is the first year head coach for Scott City.