Deer Accidents Spike This Time Of Year
KSCB News - October 23, 2013 9:12 pm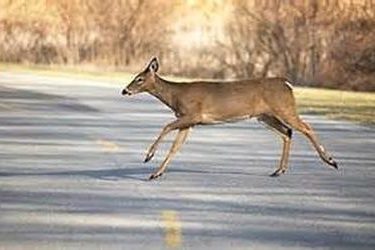 It is that time of year. The risk of hitting a deer goes up drastically.
Here is some deer avoidance tips.
Deer travel in herds. If there is one, there is likely another
Watch the deer crossing areas
Watch out especially between 6 a.m. and 9 p.m. at night
Use your high beams
Don't swerve, if you don't have to, it could prove deadly
"But if you roll the car, that's what we see in most instances, is somebody tries to swerve," says Lt. Roger Boughman, Kansas Highway Patrol. "It's a drastic grabbing of the steering wheel and they roll the car."
Boughman says he's responded to hundreds of deer wrecks.
Some of them fatal.
He says the best advice, if you are about to hit a deer, is hit it.
"We recommend you go ahead and hit the deer. Just take the deer on. Just go ahead and hit the deer."
Of course, the owner of this car is alive and well if not shaken.
Someone who has hit a deer, it can be an expensive accident, but the car can be fixed.
"Usually, you've got the typical bumper, headlight, hood. Depending, usually they go down the side, so we'll do some side repair too," said Brown.
If you look at October 23rd over the past ten years, there have been close to 450 accidents involving deer.
That's more than double the wrecks recorded on October 1st, and accidents keep going up until next month.