DBU Downs Aggies
KSCB News - January 5, 2015 6:38 am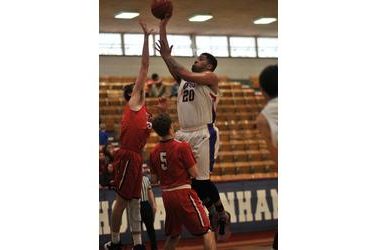 Goodwell, Okla.-While busses and basketball fans battled wintry road
conditions outside, two Heartland Conference teams battled on the court
inside the Oscar Williams Field House as the OPSU Aggies took on the
Patriots of Dallas Baptist University on a snowy Saturday afternoon.
The Aggies scored a quick layup straight from the tip-off and took a
five-point lead early in the game. DBU tied things up 7-7 at the 16-minute
mark and the Patriots took control of the first half from that point on. The
Aggies found themselves down by a margin of 23 points at halftime (22-45).
DBU opened the second half with a shot from beyond the arc followed by two
fouls that sent the Aggies to line for four points. A back-and-forth battle
ensued and the Aggies pulled to within 12 points of the lead with five and a
half minutes left to play. Dallas Baptist maintained control and took a
17-point victory with a score of 80-63.
Antonio Manns, Jr. was the leading scorer for the Aggies with a game-high 22
points; John Lazenby came through with a total of 18 points, seven rebounds
and three assists. Jonathan Perry totaled 17 points for the Patriots and
Chris Strong brought down a game-high 11 rebounds for DBU; Amari Bryant led
the game with six assists.
Coach Jerry Olson gives "hats off to DBU" saying, "they played well and shot
well." Olson was disappointed in the Aggies' first-half effort, "We were a
half-a-step slow on everything; we didn't play hard, didn't block out, and
didn't get back on defense. We were slow just like we were in Friday's
practice."
Olson felt that his team played much harder in the second half and competed.
"This team has a big-time upside if we just do what we're supposed to do and
do it hard."
The Patriots came into the game ranked third in the Heartland and now hold
an overall record of 8-3 with two conference wins. With the loss the Aggies
move to 2-9 on the season and will look to earn their first conference win
on the road as they travel to Oklahoma Christian Thursday, Jan. 8.
###
Justine Gaskamp