Davidson Promoted To Head Baseball Coach at SCCC
Joe Denoyer - May 25, 2018 8:43 am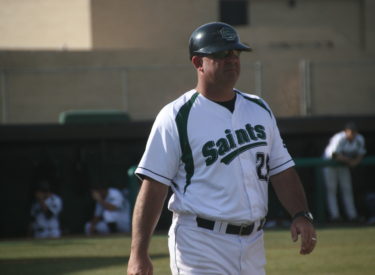 LIBERAL, Kan. – Seward County baseball will begin a new era in 2019, but will do so with a familiar face.  After 18 years of being assistant coach, Mike Davidson has been called up to be the new Head Coach for the Seward County Saints.
"Mike has given us 18 years of unwaivering, loyal service and with that said, I am very excited to see him lead our baseball program going forward," said Director of Athletics Roy Allen. "His work ethic is second to none and his passion for our student-athletes is evident by the number of players that he has helped graduate and move onto the next level, whether that be at the Division I level, or the professional level. He is a respected member of the baseball community and will give us the opportunity to make the transition in this position as smooth as possible for our returning players and recruits."
In Davidson's 18 years with the Saints, he has helped Seward become known as one of the premiere offensive teams in the country.  Seward's offense has had an average team batting average of .327, with 125 doubles and 40 home runs per season during his time with the Saints. This past season, Seward ranked 7th in the country in doubles with 147, while cranking 84 home runs – 12th nationally; 2nd KJCCC.
He is known for helping develop players, having coached 12 NJCAA All-Americans, while 150 players have advanced their careers to the NCAA Division I, II or NAIA level.  During his 22 years of coaching at the junior college and high school levels, Davidson has coached 75 players who have been drafted in the MLB Draft or who have signed professional contracts with MLB organizations.
The Saints have had a run of success over the past 18 seasons, with an overall record of 637-394 (.618), while winning 11 Jayhawk West Championships and making two NJCAA World Series appearances.
Before coming to SCCC, Davidson spent four years (1997-2000) as an assistant coach at Vernon College in Vernon, Texas. In that time the Chaparrals had an overall record of 134-91 (.596), including a NJCAA Region 5 Tournament Runner-Up finish in 1999.
From 1996-2000, Davidson was an assistant coach with the Burkburnett (TX) Blacksox (AABC-Connie Mack) where they compiled an overall record of 257-81. Davidson took the Blacksox to five State Championship Tournaments and reached three American Amateur Baseball Congress Regional Tournaments.
The Saints are coming off a 30-30 season and a 6th place finish at the Region VI Tournament, where seven players were named to the All-Jayhawk Conference teams.