Davidson Coach of the Year and Grant Player of the Year
Brock Kappelmann - May 26, 2021 3:19 pm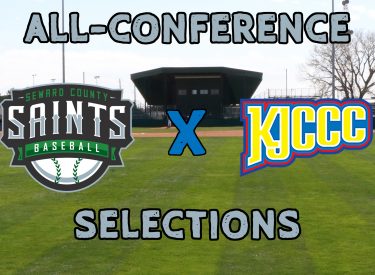 Kenny Hernandez
LIBERAL, Kan. – Seward County Community College received five post-season awards with Wyatt Grant being named Jayhawk West Most Valuable Player and Head Coach Mike Davidson named Coach of the Year in the Jayhawk West. The All-Conference teams were broken down by top players in their position and three starting pitchers with one relief pitcher award on each team.
On the first team All-Jayhawk West team, Braden Boisvert was named as the first baseman, Kase Johnson named at second base, KP Werner as an outfielder, Mason Martinez as a starting pitcher, and Wyatt Grant in the catcher position.
Coach Davidson was named the coach of the year as the Saints claimed second place in the Jayhawk West to host the Sub-Regional at Brent Gould Field. Seward County had a 20-12 conference record and during the year and they went on an 11-0 run to propel them into the top of the Conference.
Wyatt Grant was named Jayhawk West Most Valuable Player and first-team All-conference with a .397 batting average, 18 home runs, and 65 RBIs. Kase Johnson earns first-team all-conference at second base with a .353 batting average, 35 RBIs, and four home runs. Johnson had 97 putouts in the field, with 13 double plays and a .912 fielding percentage.
Braden Boisvert had a .365 batting average, 15 home runs, 62 RBIs, and 49 runs batted in. Boisvert's first year with the Saints, he had 179 put-outs with a fielding percentage of .970 at first base. Mason Martinez was the ace on the mound for the Saints this season with seven wins in just eight starts. Martinez ended the year with a 5.46 ERA and tied for third in the KJCCC with 79 strikeouts.
KP Werner, a third-year sophomore, had a .405 batting average, 51 RBIs, and 8 home runs. As the starting center fielder, he had a .971 fielding percentage, and 99 putouts.
For the complete list of the KJCCC All-Conference teams follow the link below for the full press release.