Dan Artamenko Begins Seward Athletic Director Job
Brock Kappelmann - July 16, 2019 4:56 pm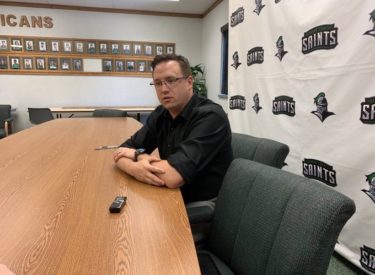 Dan Artamenko enters his first year as Director of Athletics at Seward County Community College.  Artamenko provides leadership, direction and support for the Saints athletic department
Artamenko joins Seward County after five years as the Director of Athletics at Williston State College.  During his time a Williston State, Artamenko oversaw five teams ranking in the top 20 of the NJCAA polls, four teams reaching the national tournament, and the construction of the Teton softball field.  Artamenko's main duties were to lead all fundraising efforts for the department and to manage game day operations for six athletic programs.
Artamenko came to Williston State after three years serving as the athletic coordinator of academics and eligibility at Blinn College.  His mains duties were to monitor the academic progress of all student athletes, process and submit NJCAA eligibility, and assist students with all academic issues.  Artamenko was able to increase the academic standards of the athletes, increasing overall student athlete GPA, increasing graduation rates and had multiple academic all Americans under his watch.
In addition to these duties with Blinn College, he assisted in game day operations with tasks such as stats and communications, working with media contacts, and helping with athletic fundraisers.  He served as the sole statistician for the 2013 national champion volleyball team.
He also served on the Brazos Valley Football Bowl Committee, which was responsible for creating and hosting a junior college football bowl game.  The game was held at Kyle Field on the Texas [email protected] campus.  The bowl game set attendance records for NJAA bowl games with over 6,000 in attendance.
Prior to his arrival at Blinn, Artamenko worked at the NJCAA headquarters in Colorado Springs.  Over his thre years working with the NJCAA, Artamenko worked in compliance, media, and sports management.  In his duties, he performed eligibility audits of NJCAA member schools, assisted in creating the monthly NJCAA Review magazine, and managed the weekly sports rankings and player of the week awards.
In addition to this experience, Artamenko has worked with multiple sport programs at every level.  He worked for USA Wrestling in the marketing department while also assisting wit the VIP program for the Olympics.  He also worked in ticket sales for the Colorado Avalanche and Denver Nuggets.  Artamenko got his start in athletics by working as a game day assistant for the sports information director at Lubbock Christian University.
Artamenko is originally from Colorado Springs before receiving his master's of business administration form the University of Colorado and his bachelor's degree in sports management from Lubbock Christian.  Artamenko's wife, Nicole, is a nurse and they have two dogs named Denver and Bailey.
Phil Lee