Crusader Wins Awards
KSCB News - April 28, 2011 8:39 am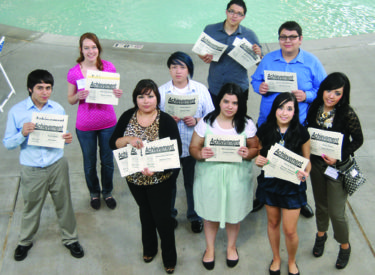 The SCCC/ATS Crusader student newspaper staff show off the Gold Medalist Award and 23 individual awards won at the Kansas Associated Collegiate Press state convention in Hutchinson April 17-18.
Crusader editor Alfredo Anaya was named Collegiate Journalist of the Year and the Crusader newspaper won a Gold Medalist Award at the Kansas Associated Collegiate Press state convention in Hutchinson April 17-18.
The Crusader student newspaper staff of Seward County Community College/Area Technical School also won 23 individual awards for work done between February 2010 and February 2011.
Co-editors Anaya, Liberal, and Dana Loewen, Meade; entertainment editor Octavio Rodriguez, Liberal; online editor Deisi Barboza, Liberal; sports editor Ivan Gaytan, Liberal; and staff members Jeanette Contreras, Raul Lemus, Heidy Molina and Lizuly Monarrez, all of Liberal, represented the Crusader at the conference, along with Crusader adviser Anita Reed.
"It felt great to bring back the gold, and the number of individual awards was impressive," Reed said. "I wasn't really surprised because I felt the students had done great work this year."
The KACP received a total of 1,823 contest entries this year. More than 200 students from 23 colleges were in attendance at the state convention.
The first day of the conference included an on-site copy-editing contest, dinner, and the first award ceremony. .
On Monday, students could choose from eight sessions on journalism topics during the three breakout time slots. Sessions taught such things as career tips, design and photography.
Larry Hatteberg, a broadcast journalist from KAKE-TV in Wichita, presented the keynote address.
Hatteberg has worked for KAKE for 41 years, and is a well-known journalist in Kansas. Hatteberg spoke on the importance of storytelling and how to let subjects tell their stories. He also spoke about his experiences with BTK murderer Dennis Rader and how he was able to be the first journalist to speak to Rader about those murders, even with pressing competition from reporters worldwide as the story gained international renown.
The gold medalist award for the Crusader was announced during the closing award ceremony. It is the first time since 2001 that the Crusader has won the gold award in the state contest.
"These kinds of contests are always subjective, so you can never be totally sure, but I went in this year feeling that we had a really good shot at the gold," Reed said.
One of the judges stated on the Crusader's critique form, "Overall, I think the Crusader is an absolutely fantastic publication. Your photography is captivating and your writing is strong. You should be proud of the work you did on the newspaper this year. Your hard work shows through greatly."
Highlighting the closing session was the Collegiate Journalist of the Year award earned by Anaya. "I am so proud of him for winning this award," Reed said. "Alfredo is an exemplary, hard-working young man, and it's so thrilling to see someone of his caliber get rewarded in this way."
Anaya was presented a plaque and a check for $250. He had prepared a portfolio with clips of his work, a cover letter, resume, and several letters of reference in his bid for the Journalist of the Year.
"It was something I didn't really expect to win, because it seemed like a tough competition," Anaya said. "I am very happy I did win. It pays off for all the long production nights we've had. I really appreciate all the help from our adviser Anita Reed and my fellow editor, Dana Loewen."
Anaya also won four individual awards, first in feature writing, second in editorial writing, second in feature photography and honorable mention in illustration.
Loewen won second in copy editing, second in series writing, third in front page design and honorable mention in headline writing.
Monarrez won first in series writing. Barboza and Molina won honorable mention in editorial writing. Gaytan won honorable mention in sports column writing.
Current Crusader staff not in attendance who won individual awards include Natalie Cano with honorable mention in column writing, Reanna Tumlinson with second place in review writing and Omar Rios with honorable mention in single ad design.
Former Crusader editor-in-chief Morgan Allaman won third in illustration and honorable mention in sports feature writing. She also won second in illustration with Rios and second in special section with the spring 2010 staff.
Former sports editor Rustin Watt won first in infographics and second in interior page design.
Other former Crusader staff who won awards include Miguel Campano with first in news photography, Campano and Allaman with third in photo essay and Jonathan Yowell with second in sports photography.