Crusader Newspaper Students Attend National College Media Convention
KSCB News - November 6, 2009 12:00 am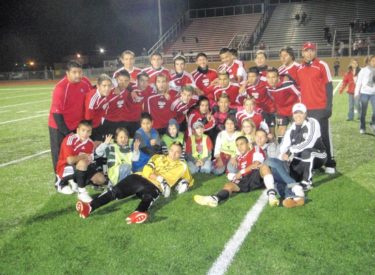 Crusader newspaper students won a fourth place Best of Show award Nov. 1 at the National College Media Convention in Austin, Texas. In an additional recognition, a Crusader student placed in the top 10 in an on-site photography contest.
Nine staff members of the Crusader, the student newspaper of Seward County Community College/ Area Technical School, represented the college at the Associated Collegiate Press event where the national award was presented.
ź??It is always so incredibly exciting to be sitting in that big convention hall with all of those competitors and hear my students win one of the top awards,ź?ť Crusader adviser Anita Reed said. ź??Iź??m thrilled for them. This is solid recognition of the talent this staff brings to the table, plus itź??s a sweet payoff for the hard work and late nights they have dedicated to producing an outstanding newspaper.ź?ť
More than 2,800 college students from around the country gathered for the convention, which presented seminars, keynote speakers, critiques and teaching sessions for students and advisers.
The Crusader competed in its two-year broadsheet category. Only five newspapers in the category were recognized with a Best of Show award, with The Sentinel of North Idaho College in first, The Accent of Austin Community College second, Apache Pow Wow of Tyler Junior College third, the Crusader of SCCC/ATS fourth, and The Voice of Washtenaw Community College in Ann Arbor, Mich., fifth.
The Crusader editor this year is Morgan Allaman.
ź??Winning makes me feel a lot better about staying to work until 6 a.m.,ź?ť Allaman said, referencing some of the production all-nighters the editors have experienced getting ready for a press run. ź??I can say it feels good to win.ź?ť
Allaman said arriving at the convention made her see differently the talent and willingness displayed by the Crusader staff of 18.
ź??You get there and all the four-year schools talk about having 60 or more staff members, and they all specialize in one area, while, on our staff, our people do everything,ź?ť Allaman said. ź??We have a really talented staff, with great photographers, strong writers, and a staff that is willing to get to know the Seward County camus community to find out what their story is.ź?ť
Allaman also expressed her pride in working in a community college setting.
ź??People who think that community colleges arenź??t worth it obviously havenź??t been on the Crusader staff,ź?ť she said.
Crusader photographer Landry Mastellar and ad manager Chris Flowers competed in an on-site photo competition, and one of Mastellarź??s photos was voted into the top 10 finalists. Approximately 60 college competitors submitted two photos each in the contest.
ź??At first I was intimidated by the other photographers there,ź?ť Mastellar said, ź??because of their equipment and because it seemed like we were the only freshman there. Then, when we went to the critique, it seemed like we were on the same playing field with everybody.ź?ť
Mastellar had a good feeling that his entry was competitive, but he didnź??t expect to make it to the top tier.
ź??I kind of expected it to make it through the first couple of rounds, but as it got farther and farther, I was very surprised,ź?ť he said. Mastellar said that, for him, the top 10 finish made for a perfect end to a good convention.
Crusader students who attended the convention included Allaman, Mastellar, Flowers, news editor Will Rector, sports editor Rustin Watt, Antigon?? Lowery, Dana Loewen, Deisi Barboza and Logan Green. Reed and co-adviser Daniel Hackett accompanied the students to the national convention.
Staff members unable to attend but who contributed to the award include entertainment editor Jose Rodriguez, Alfredo Anaya, Devon Box, online editor James McElvania, Dacee Kentner, Zach Carpenter, Devon Ponder, Cherisse Overton and Taylor Hugg.
ź??The area was a little different from a normal convention city setting, so evening activities were kind of hard to schedule,ź?ť Reed said. ź??However students were able to absorb some of the Sixth Avenue districtź??s flavor as well as the Halloween madness of 60,000 people converging in the area. We saw the Congress Avenue urban bat colony take flight at sunset one night, took a quick tour of the University of Texas campus, and we were able to take in an NBA game and spend some time on the River Walk in nearby San Antonio one night.ź?ť
One highlight outside of the convention was attendance at the Halloween night Spurs basketball game to see firsthand the widely publicized incident in which Spurs player Manu Ginobili swatted a bat out of the air.
The Crusader student newspaper is produced by students of SCCC/ATS and has an online site at CrusaderNews.com. The publication prints every two weeks during the academic year and is distributed to 1,600 homes by direct mail, with free campus and satellite location distribution.
Since 2000 Associated Collegiate Press has recognized the Crusader with a total of seven Best of Show national awards for newspaper, three Best of Show awards for special sections, and a Pacemaker Finalist Award in 2003-2004. CrusaderNews.com online has shared in the national spotlight, with ACP Online Pacemaker Awards in 2002 and 2004, and an Online Pacemaker Finalist Award in 2008.
Associated Collegiate Press Awards
won by the Crusader from 2000-2009
2000
4th Place Best of Show Newspaper
Washington, D.C.
2001
5th Place Best of Show Newspaper
New Orleans, La.
2002
Online Pacemaker Award
Orlando, Fla.
2003
3rd Place Best of Show Newspaper
Dallas, Texas
2004
Online Pacemaker Award
Newspaper Pacemaker Finalist
Nashville, Tenn.
2006
2nd Place Best of Show Newspaper
3rd Place Best of Show Special Section
St. Louis, Mo.
2007
2nd Place Best of Show Newspaper
2nd Place Best of Show Special Section
Washington, D.C.
2008
1st Place Best of Show Newspaper
3rd Place Best of Show Special Section
Minneapolis, Minn.
2008
Online Pacemaker Finalist Award
Kansas City, Mo.
2009
4th Place Best of Show Newspaper
Austin, Texas