Crump Named Honorary Member Of Shrine Bowl
KSCB News - April 8, 2014 12:38 pm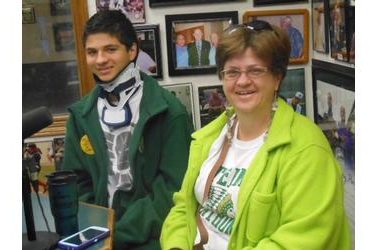 Told he wouldn't be able to walk again, injured Satanta football player Anthony Crump walked to the front of Midian Shrine Temple on Saturday and received a special honor.
The freshman was named an honorary member of the Shrine Bowl West squad, a distinction normally set aside for the state's top seniors in the annual High School All-Star game.
Last September, Crump suffered an injury on a kickoff return while playing for Satanta.
He lost feeling in his arms and legs.
While being evaluated in Wichita that weekend, doctors tried to get him transferred to an out-of-state hospital, but issues arose with the family's health insurance.
The Midian Shriners helped provide a plane to transport Anthony to one of their children's hospitals in Chicago.
Overcoming a broken vertebrae and damaged tendons in his spinal cord, Crump walked out of the medical facility roughly seven weeks later.
While he's still recovering and won't play, Crump joins the likes of Barry Sanders and several other marquee standouts-past and present, to be named to a Shrine Bowl.