Crooked Numbers Doom Saints in Blowout Loss to Clarendon
Brock Kappelmann - April 13, 2017 7:15 am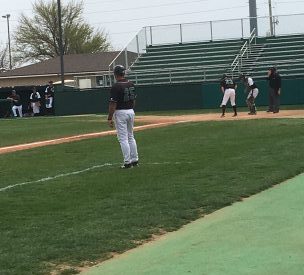 With the wind blowing out and a worn down pitching staff after a long weekend series, the Seward County Saints struggled to hold down the visiting Clarendon Bulldogs Wednesday afternoon at Brent Gould Field, falling 21-10 in a contest in which Clarendon scored in seven of nine innings of action.
Clarendon jumped out to an early lead, plating two runs in the top half of the 1st inning before the Saints even got a chance to swing it.
Seward didn't even have to swing the bat a single time to get the two runs back in the bottom half of the frame as Clarendon pitching walked the first six Saints hitters of the frame to tie the score at two before a bases clearing double from Cody Stineman and back to back RBI singles from Christian Erives and Errett Edwards staked Seward out to an 8-2 lead.
The Bulldogs got a run back in the 2nd and then exploded in the 3rd, scoring nine runs on just four hits to turn the tables on the Saints and take a 12-8 lead of their own.
Clarendon was back at it in the 4th, using three singles and a two run home run to push four more across to make it a 16-8 contest.
The Saints fourth error of the game in the 5th allowed Clarendon to score their 15th unanswered run before finally Seward scratched something out in the bottom of the inning to make it a 17-9 game.
It remained 17-9 through the 6th when Clarendon added a run in the top half of the 7th to push their lead to nine and three more for the Bulldogs in the 8th made it a 21-9 Clarendon advantage.
Seward scored in the 9th to reach double digits, but it wasn't nearly enough as Clarendon went on to win 21-10.
Clarendon outhit Seward 19-8 in the game and the Saints committed six errors leading to eight unearned runs in the loss. Tabor Johns was the only Seward hitter to have more than one hit in the game while Cody Coontz and Montana Newell each drove in a pair. West Reddell took the loss on the hill, allowing nine runs in just 1 2/3 innings of work to fall to 1-2 on the year. Jacob Neilsen was the only of six Seward pitchers to not give up a run on the day.
The Saints fall to 16-24 on the year while Clarendon moves to 21-16. Seward will have just one day off before getting back to business on Friday and Saturday when they travel to Great Bend to take on the Barton Cougars in a key four game Jayhawk West Conference series.
SEWARD COUNTY/CLARENDON BOX SCORE<http://www.sewardsaints.com/sports/bsb/2016-17/boxscores/20170412_l3t3.xml>
Roy Allen