Saint Season Ends Quietly in Ark City
Brock Kappelmann - May 7, 2017 8:50 am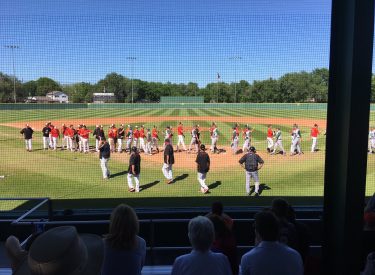 Seward's long spring came to a close Saturday afternoon in Ark City.  The Jayhawk East champion Cowley Tigers run ruled scuffling Seward 12-2 in seven innings Saturday.  Cowley sweeps the two game series 2-0 in two run rules.  The Tigers outscored the Saints 27-3 in the series.
Thanks to a Seward error, Cowley scored three in the first.  The Saints added three more errors to their nation leading total on Saturday.  The Tigers scored one in the second against starter Ethan Earhart who lasted three innings.  Cowley scored four in the fourth for an 8-0 lead.  The Saints scored in the fifth when Montana Newell doubled off the wall in center and scored on a Brian Tims single to left.  Cody  Stineman lofted his fifth homer of the season over the right field wall in the sixth to make it 8-2.  Cowley struck for two in the sixth and two in the seventh for the run rule.
Seward finishes with a program record of losses in a 17-38 season.  Seward lost 15 of their last 16 games.  The Saints lost 11 in a row on the road to finish their season.  Cowley is 39-16 and advances to next week's Region 6 Tournament in Wichita.  This is the first time Seward has missed Wichita in back to back seasons.