Conner Warren Wins Yucca Ridge
Brock Kappelmann - August 28, 2018 7:09 am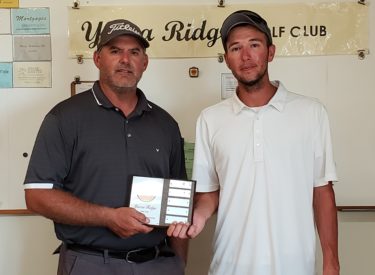 Yucca Ridge Announces 'OPEN Tournament' Winners
Yucca Ridge Golf Club hosted its thirteenth annual 'OPEN Championship' this past weekend. The two-day, individual format, golf tournament crowns a champion every August.
Liberal resident Conner Warren shot one under par on the last nine holes Sunday to edge out first day leader Kyle Weber of Liberal. Warren finished with a two-day total of 161 on a hot and blustery Sunday. Weber finished in second with a 163 for the tournament.
Former Liberal resident and a student at Wichita State, Johnny Obholz finished third with a 165 total. Derek Fuller finished in fourth and Ryan Brown from Woodward (also formerly of Liberal) finished in fifth. Past champion and former Liberal resident Tyler Brungardt did not defend his title this year.
"After a near perfect golf day Saturday, it turned out to be kind of tough on the guys with the wind on Sunday," said Superintendent Trent Kitch. "Despite the wind I think the guys had a good time. It was good to see some of our guys that have moved away, come back for this tournament."
The next scheduled event at Yucca Ridge will be the 'SnoBall' two person scramble on November 17th. For any info on golf at Yucca Ridge you can call or text Kitch at 482-0243, or call the office at 624-GOLF.