Conner Warren Wins Yucca Ridge Title
Brock Kappelmann - August 29, 2019 6:25 am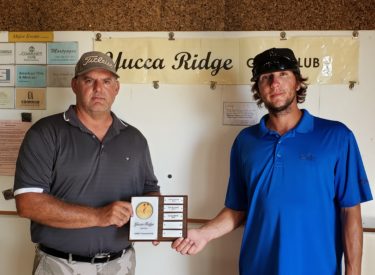 Yucca Ridge Golf Club hosted the 14th annual 'Open' Championship this past weekend. This individual tournament determines who get's their name on the plaque hanging on the shop wall, and who will be our course champion for 2019.
There was a good mix of players that had played this tournament for years, as well as those playing for the first time. Saturday morning started cool with clouds overhead. It burned off by noon and we had perfect weather; as it turned out, perfect weather for the entire weekend!
The course played a little tougher on Sunday. Some of the players, who had not played before, benefited from getting that first round under their belt and played better on Sunday. Levi Eaton finished in fourth place for the tournament with Ed Rangel finishing in third place. A previous winner, Derek Fuller, shot a two day total of 174 to finish in the runner up spot for the tournament. This year's champion was also last year's champion! Conner Warren shot 76 on Saturday, and 83 Sunday for a two-day total of 159 to claim his second consecutive Yucca Ridge 'Open' Championship. He played well over the weekend and he will get his name on the plaque for a second time!