Commercial Fire: 744 E Pancake (Cattleman's II Restaurant)
Joe Denoyer - May 29, 2023 4:03 am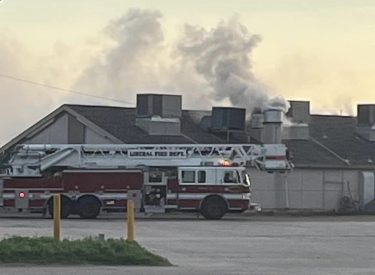 At 6:53 am Sunday, Liberal Firefighters were dispatched to 744 E Pancake for a report that the building was on fire. On arrival, firefighters found heavy smoke issuing from the building and were informed that an employee of the business had advised that the fire was in the kitchen area.
Firefighters made entry and were quickly able to knock down the main body of fire in the kitchen. As the building was opened and ventilated, it was discovered that the fire had extended to the attic space as well. Access to the attic required extensive effort from both the interior and exterior. The fire was declared under control at 8:17 am. The building suffered extensive fire damage to the kitchen, main dining room and attic space. The remainder of the building suffered from heat and smoke damage. Fire investigators have determined that the fire began in the kitchen and spread outward from there. Firefighters remained on-scene overhauling hotspots and conducting investigation efforts until 11:49 am.
Liberal Fire responded with a total of 16 personnel, two engines, a ladder truck & 4 support / chief officer vehicles. Other agencies assisting with the fire are the Liberal Police Department, Southern Pioneer Electric, Black Hills Energy, Liberal Water Department and the Liberal / Seward County Emergency Communications Center.