Commercial Fire – 1501 E. 8th Street at National Beef
Joe Denoyer - April 19, 2021 10:20 am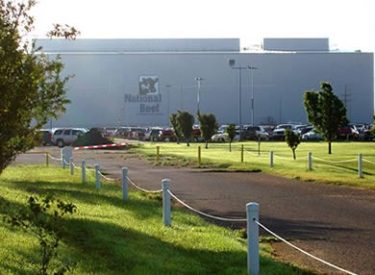 At 12:44 am Sunday the Liberal Fire Department was dispatched to 1501 E. 8th St. for a report of an unknown fire.
The first fire units arrived on scene at 12:50 am and were met by an employee who led them to the 3rd floor box room.  In that area several pallets of baled cardboard box material were burning.  Personnel from the plant had discovered the fire and were fighting it with steam hoses generally used for cleaning processes.  Fire personnel relieved them and continued using the steam hoses to control the fire until water supply could be established and attack lines were deployed.  The fire was declared under control at 1:47 am.  Due to the amount of smoldering material and the location within the plant an intensive effort was made by firefighters and plant personnel to move it outside to be wet down.  One person was evaluated by Seward County EMS at the scene for possible smoke inhalation but declined treatment or transport.  Damage appeared to be limited to the baled cardboard box materials with several pallets lost to fire and water damage.  No structural or equipment damage was noted during the fire investigation.  The cause of the fire remains undetermined at this time.  All fire units cleared the scene at 3:32 am.
Liberal Fire responded with a total of 12 personnel, two engines and a ladder truck.  Agencies also assisting at the scene were the Liberal Police Department and Seward County EMS.