Columbus Sails Through Championship
KSCB News - July 18, 2011 3:09 pm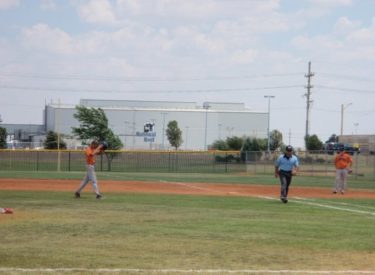 Two teams from Southeast Kansas met Monday in Southwest Kansas for the Senior Babe Ruth state championship trophy. The two teams had met six times during the season. Columbus won all six and after Mondays games, Columbus has won all eight. Columbus swept Coffeyville to win state 11-4 and 12-3. Game two was tight with the Coffeyville Rockies thinking upset leading 2-1 into the sixth. But Columbus muscled up with eight runs to blow the game open. Columbus only loss of the summer was to Lakin Saturday. Both teams will go to Charleston, Missouri for the Midwest Regional. This marked the second straight year Liberal hosted the state tournament.
In the 12-year-old state championship at Scott City, the Cimarron River Rattlers had a 5-3 lead but Ottawa won 11-5.
In the 10-year-old state championship at Oswego, Fort Scott won state over the Cimarron River Rattlers 15-5.
The state bound Cimarron River 9-year-olds play Friday at 2:15 against Paola at Fort Scott.
The Cimarron River 13-year-olds play at state in Garden City Friday at 2:30 against Independence.