Collin Klein Speaks in Liberal Sunday
KSCB News - February 1, 2014 7:22 am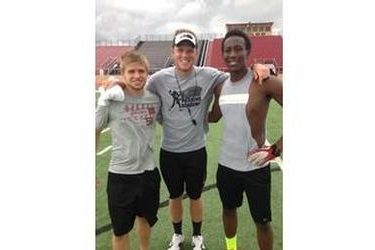 Former Kansas State quarterback and 2012 Heisman Trophy finalist Collin Klein is coming to Liberal. Pastor Rex Petty of Faith Tabernacle Church announced Klein has agreed to come to Liberal and speak during the church's Super Bowl party on Sunday.
"We always try to have someone speak at our Super Bowl parties each year, and we've had well known Redskins return home and several retired former professional players from the NFL," Petty said. "But it's a real honor and we're very fortunate to have a Heisman Trophy finalist come to speak to us."
Faith Tabernacle has traditionally put on a Super Bowl party each year for at least 20 years or more. The game will be shown at the Seward County Ag Building at the fairgrounds on a 25 foot screen courtesty of Jay D's Satellite.
Klein will be the guest speaker at halftime and will sign autographs. Doors to the Ag Building will open at 5 p.m. and the game kicks off at 5:25. Refreshments will be served courtesy of Pizza Hut and Wendy's and there is no cost to attend. Children younger than 13 need to be accompanied by a parent or guardian.