Cold Shooting Night Costly for Lady Redskins
Brock Kappelmann - January 16, 2021 6:34 am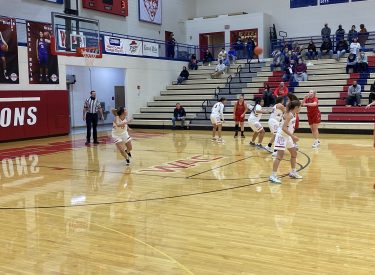 The Liberal Lady Redskins have dropped two straight for the first time since 2017.  That's after a 45-36 loss at the Dodge City Fieldhouse Friday night.  Liberal's shooting struggles continued as LHS shot 24% (10-41) while the Dodge City Lady Demons shot 44 percent (15-34).  LHS was 6-25 from two point range.  Liberal took high percentage shots most of the night but could not find the bottom of the net.
The Lady Redskins led 14-13 after one quarter but missed many two footers in the first quarter which would have allowed them to be ahead by more.  Liberal struggled in the second quarter as the Lady Demons out paced LHS 14-5 in the quarter to lead 27-19 at the half.  Dodge City led 34-19 and led the Lady Red 34-25 after three quarters.   The Lady Redskins cut the lead to 36-30 with 3:15 to play.
Liberal out rebounded Dodge City 30-27 and 18-9 on the offensive glass.  Liberal was 4-16 from three point range while DCHS was 4-14.  Liberal was 12-19 at the foul line and the Lady Demons were 11-15.
Aubrey Warden had 13 points and five rebounds while Ashley Carrillo scored 10 points and five rebounds.
Dodge City snaps an eight game losing streak against Liberal and defeats the Lady Redskins for the first time since 2016.
Liberal is 6-2 and 2-2 in the WAC and Dodge City is 8-0 and 1-0 in the WAC.
Liberal plays Abilene Thursday at 5 on 1270 and kscbnews.net.