Colby Snaps Seward Streak
KSCB News - October 7, 2014 6:40 am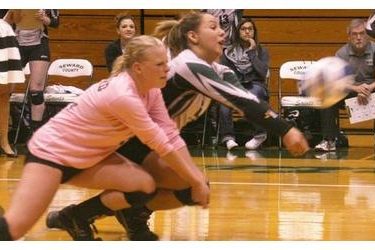 The Seward County Lady Saints five match winning streak came to a screeching halt Monday night in the Greenhouse as visiting Colby came in and grinded out a four set win to vault the Lady Saints into 2nd place in the Jayhawk West standings.
The Lady Saints looked good early on against a Colby team that they went five sets with earlier in the conference season. Seward got an early kill from Thayna Silva and an ace from Kari Anderson to get themselves out to a 6-4 lead. Colby came back to take a 13-12 lead midway through the set, but back to back blocks from Carolina Gasparini and Carolina Freitas pushed Seward back in front 14-13. The Lady Saints extended their lead to two later in the set on an ace from Taryn Bedore but three straight Colby kills and a Seward blunder allowed the Lady Trojans to grab a 22-20 advantage. A Colby service error stopped the Lady Trojans momentum and back to back kills from Angelina Minor and Megan Sharratt put Seward back in front 23-22 in the seesaw battle. After a timeout, Colby tied the score at 23 and on the next play the Lady Saints picked the wrong time for a ball handling error to give Colby set point at 24-23. The Lady Saints hung tough, getting a kill from Minor and another from Gasparini to flip the script and give themselves a set point, but a key service error long knotted the score back at 25. Freitas got a kill for Seward to give them another crack at the set and it looked like they had it as a Colby tip try went wide, but the Lady Saints were called in the net and this one would end up stinging bad as Colby got back to back kills after the score was tied at 26 to win it 28-26 and take a 1-0 lead in the match.
The Lady Saints got off to another good start in the second, going on top 11-8 after a kill from Silva and a Colby attack error. They continued to control the pace, stretching their lead to 16-11 on a kill by Minor and held a 23-20 lead after a kill by Sharratt put them one step closer to evening the match at one. The teams traded points to 24-21, but Seward had three cracks at set point to take the second. Easier said than done, as a Colby kill and a Seward reception error made it a 24-23 contest and another Colby kill tied things up at 24. The Lady Saints had two more cracks at winning the set but failed each time to again make the score 26-26 as it was in the first. Also just like it was in the first, Colby finished out the set with back to back kills and defeated Seward by a 28-26 count, this time to go up 2-0.
The third set looked like dejavu as the Lady Saints jumped out to a 7-4 lead for the third straight set before watching Colby come right back to tie the score up by the midpoint at 13-13. A kill by Gasparini jump started the Lady Saints and they went on a mini 4-1 run to take a 17-14 lead. This time they would hold the advantage, extending their cushion to 23-18 on a Colby service error and using two late Lady Trojan hitting errors to extend the match with a 25-22 win.
Needing a win in the fourth to extend the match, the Lady Saints got off to a dreadful start in the set, falling behind 10-5 as they failed to find anyone who could make a pass off of a tough Colby serve. That's when their block stepped up as they got rejections from Gasparini, Sharratt, Minor, and Freitas to get themselves back in the game at 12-10 before getting back to back aces moments later from Gasparini to tie the score at 13. Three errors and a Colby kill allowed the Lady Trojans to move back in front 17-13 but once again Seward wouldn't quit, inching closer before getting a triple block in the middle from Gasparini, Sharratt, and Minor to tie the score at 19. Just when it looked like momentum was on Seward's side, the Lady Trojans went to their offensive weapons, getting a pair of kills to go back up 21-19 and using two Seward errors to close the Lady Saints out 25-21 to take the match 3-1.
Seward's offense was feasible on the night, but it was mounting errors that caved in their comeback bid. The Lady Saints finished the night with 39 errors in the four setter including 9 service and 7 reception blunders. Gasparini led the way for Seward with an 11 kill, 15 dig double-double while Freitas had 5 kills and a team best 7 blocks in the middle. Minor also had a nice night for the Lady Saints, putting down 8 kills on 13 swings to finish with a .538 hitting percentage.
Seward sees their five match win streak snapped and falls to 17-12 overall and 5-4 in Jayhawk West play where they drop two places to 4th in the conference standings. Colby improves to 10-13 overall and 6-3 in league action, jumping up to 2nd with the win. Next up for Seward is a now key matchup with Barton on Wednesday night in the Greenhouse at 6:30.
SEWARD COUNTY/COLBY BOX SCORE<http://www.sewardsaints.com/sports/wvball/2014-15/boxscores/20141006_l1f7.xml>
Roy Allen