Colby Rallies Past Seward
Brock Kappelmann - January 23, 2020 6:27 am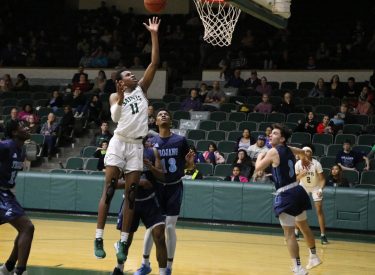 Kenny Hernandez
LIBERAL, Kan.- Seward County Community College led by a game-high 14 points in the second half but Colby Community College fights back to beat the Saints 76-71. The Saints fall to 12-8 overall and 5-6 in Conference play. Seward turned the ball over 25 times in the game and Colby had 20 more shot attempts, that ultimately put the game in the favor of the Trojans.
In the first half, the Saints and Trojans exchanged leads six times and twice the score was tied. The first half defense by Seward kept the Trojans to just 38% from the field and 3-16 from behind the three-point line. The Saints closed out the first half on a 13-5 run and led at halftime 45-34 lead.
Kyle Cardaci led all scorers in the first half with 15 points on a perfect 6-6 from the field, that included 3-3 from three-point range.
The second half Seward County led by double digits but only for the first five minutes of the half as Colby quickly responded with a massive 22-2 run. This gave the Trojans a 65-57 lead and the momentum clearly in their favor, and just 6:16 left in the game. The Saints trailed 67-60 but with just two minutes left Colby would slow down the offense and start to manage the game clock.
Seward found themselves down just two points 68-66 after Cardaci connected on a free throw. Trojans Demarcus Sharp made a three-pointer to give them the final separation of the game at 71-66.
Colby was led by Sharp with a team-high 18 points, seven rebounds, and four steals. Other Trojans in double digits were Eddie Davis with 16 points, Javion May with 13 points and Matt Mcfarlane with a double-double 15 points and 11 rebounds.
Saints Cardaci led all scorers with 21 points on 8-10 from the field. Other players in double digits were Ramiro Santiago had 18 points, and Stephen Takyi had 14 points.
Seward will travel to Barton Community College on Saturday and will tip-off at 7:30 PM against the Cougars. For the live stream and audio head to sewardsaints.com.