Coffeyville Spoils Saints Sophomore Night
Brock Kappelmann - February 20, 2022 7:54 am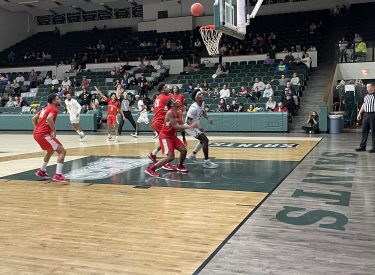 The Coffeyville Red Ravens came to the Green House and spoiled Seward's Sophomore Recognition Night Saturday night.  The Red Ravens ran away from the Saints 81-64 for the season sweep.
The Ravens led 36-25 at the half and out scored the Saints 45-39 in the second half.
The Ravens shot 44 percent and made 10-25 three pointers for 40 percent.  The Red Ravens were 21-27 from the foul line for 77 percent.  Seward shot 42 percent but made just 5-22 three pointers for 23 percent.  Seward was 11-14 at the foul line. Coffeyville killed the Saints on the glass by 19 (42-23).
In his last game in the Green House, third year Saints Bee McCrary had 21 points on 8-12 shooting.  Will Dubinsky had 19 points.  Taye Donald and 10 points and five rebounds.  Seward's posts were held in check as Kevon Cooper was 1-7 for two points and Harvin Ibarguen was 2-3 for four points and fouled out.
Coffeyville is 15-12 and 12-9 in the KJCCC.  Seward finishes the regular season 11-19 and 8-16 is their final Jayhawk Conference record. The Saints finish 7-6 in the Green House.  Seward will play on the road on Saturday at a time and against an opponent to be announced to begin the Region 6 Tournament on 107.5 and the KSCB and The Legend App.