Coffeyville Ends Saints Season
Brock Kappelmann - February 26, 2022 6:51 pm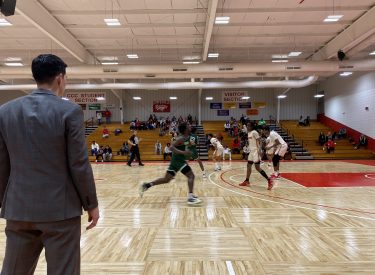 A scoring drought of over 10 minutes and a 19-0 Coffeyville run spelled doom for the 2022 Seward County Saints season.  After trailing by one with momentum right before half,  Seward fell in blowout fashion 67-45 Saturday afternoon at Nellis Hall in Coffeyville.  The Saints finish 11-20.
The Saints came out ready to play and led 6-2 and 8-4.  The Red Ravens roared back on their home court to lead 20-14.  Seward made it a 25-24 Coffeyville lead with a Bee McCrary three pointer.  The Ravens led 27-24 at the half but the Saints were boisterous heading into their locker room knowing the game was being played at SCCC's pace and they were within striking distance of the defending NJCAA champs.  But Seward couldn't find paydirt in the second half.  They didn't tally a point until the 11 minute mark of the second half and trailed 44-24 with 11:20 to play.  Coffeyville led by as many as 25 points and 61-36.
The Saints shot jut 35 percent and were 3-25 from three point range.  SCCC was 2-5 at the foul line.  The Ravens shot 40 percent and were 8-20 from three point range and 15-20 at the free throw line.  The Red Ravens kicked the Saints on the glass 46-27.
Harvin Ibarquen was the Epic Touch Player of the Game with 12 points and five rebunds.  Will Dubinsky scored 13 to lead the Saints.  Bee McCrary had 11 points and five assists in his final game with the Saints. Coffeyville's Blaise Keita had 13 points and 21 rebounds.
The Saints finished with their worst record since 2017 when they were 9-22.  The Saints lost their 10th straight road game.  Seward drops their third straight Regin 6 Tournament game since they won it in 2019.  Coffeyville is 18-12 and plays at Garden City on Tuesday night.