Cock Fight Near Hooker OK Being Investigated
KSCB News - May 9, 2012 10:58 am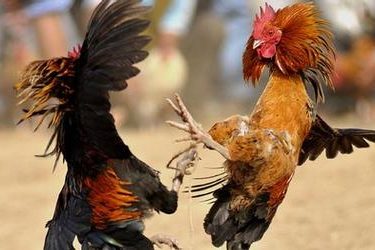 Texas County Sheriff's Deputies responded to a report of animal cruelty on Saturday, and what they found was a cockfight, complete with several dead animals and individuals betting on the outcomes of the fighting.
"It was a full-fledged cockfight going on," said Texas County Sheriff Rick Caddell.
Officers responded to a barn behind a residence two miles west of Hooker on Mile 43.
"When we got there, their were several subjects (present) and some of them fled," Caddell said. "So we're still trying to get all the names and round everything back up so we can get it presented to the District Attorney's office. We're still in the middle of an investigation."
This is the first report of organized cockfighting in Texas County since the practice was banned by the state in 2002.
"Since they passed that law, we haven't had any reports other than this one," Caddell said. "So it's kind of unusual."
The investigation is ongoing.