Coach Helps Nab Burglar
KSCB News - April 13, 2011 9:27 am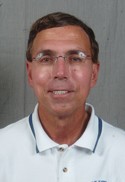 Associated Press – April 13, 2011 5:14 AM ET
HUTCHINSON, Kan. (AP) – Police say a Hutchinson Community College basketball coach and an off-duty firefighter managed to tackle a man suspected of burglarizing the coach's dorm room on campus.
Investigators say 55-year-old coach Steve Eck saw a man taking a bag with his belongings Tuesday morning from a dorm room where Eck sometimes stays to keep an eye on his players. The 20-year-old suspect ran and Eck pursued him before an off-duty firefighter joined the chase and helped tackle the man.
The Hutchinson News reports that the two men held the suspect until police arrived. He is charged with aggravated robbery, aggravated burglary and felony theft.
Police say the suspect is from Blue Springs, Mo., and has no ties to the college. He was expected to appear in court Wednesday.