Co-ops Care: PTCI and TCEC come together to donate $5,000 to local Y
Joe Denoyer - January 13, 2022 3:31 pm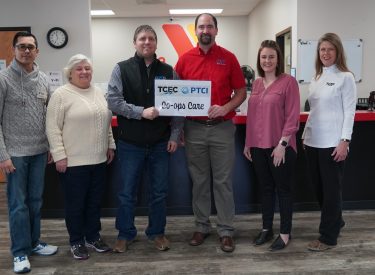 The YMCA of Texas County in Guymon is more than a gym; it's a community. PTCI and TCEC, two local cooperatives, brought the Seventh Cooperative Principle of 'Concern for Community' to life with their joint contribution of $5,000 for the thirteenth consecutive year to kick off the 2022 YMCA fundraising campaign.
Contributions to the YMCA fund scholarships, keep memberships and programs affordable, maintain the facility and improve the YMCA's sustainability.
"Thanks to donors like you, we will be able to provide life-changing programming for the children and families throughout Texas county, as well as being able to help those in greatest need," said the Texas County Family YMCA Board of Directors and Staff.
To learn more about the YMCA or contribute to the campaign, call 580-468-9622. You can also donate in person at the YMCA, 1602 N. Oklahoma, Guymon.