Cloud Sweeps Seward in McPherson
Brock Kappelmann - March 18, 2019 7:23 am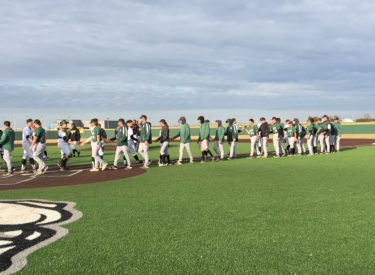 With Cloud's field still too wet to play, the Cloud Thunderbirds made themselves right at home at Bulldog Field in McPherson.   The T-Birds swept the Saints 11-8 and 6-4.  Cloud wins the series 3-1.
In game one, Seward starter Ryan Giberson was chased after 2 and 2/3.  The T-Birds scored one in the second and Seward tied the game in the third.  Owen Martin singled home a run.  Cloud scored six runs on one hit in the third.  There was one error, three walks, and three HBP's.  This made it 7-1 after three.  Cayde Ward slammed a two run homer to left in the fourth to make it 7-3.  Seward scored three in the fifth on two hits.  Cloud pitching and defense began the inning with two walks and an error.  Seward scored a run on a double play.  Richard Armijo doubled to right and Cruz Shope singled him home to make it 7-6 in the fifth.  Cloud added a run in the fifth to lead 8-6.  Benny Ayala hit a towering two run homer to left to tie the game at 8-8 in the sixth.  But the T-Birds scored three in the bottom of the sixth to lead 11-8.
In game two, Seward starter Braedon Gould lasted 3 and 1/3 innings.  Cloud scored two in the third and four in the fourth to lead 6-0.  Seward waited until the seventh to get the bats going.  CJ Fernelius and Richard Armijo provided RBI singles and Shope grounded out to score a run to make it 6-3.  Ward tripled to right and Ayala grounded out to score him to make it 6-4.  Austin Folds pitched 4 and 2/3 scoreless innings in relief for the Saints.
Seward is 11-11 and 4-4 in the Jayhawk West while Cloud is 13-6 overall and 6-2 in the Jayhawk West.  Seward plays at Clarendon Tuesday and at Butler on Thursday.
Game 1 audio:
Game 2 audio: