Cloud Grounds Lady Saints
KSCB News - January 14, 2013 6:54 am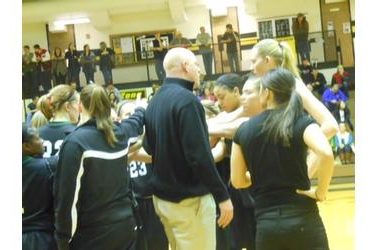 The Seward Lady Saints gave great effort Saturday night in Concordia. On the verge of being blown out and trailing 47-32, Seward fought back and made it a game but still lost 65-55 to Cloud County. Seward's offense struggled, and that was the difference in the game. Seward shot 33 percent from the field but held Cloud to 37 percent shooting. Cloud shot 16 more free throws than Seward.
Fabiana Monte led Seward with 15 while Madison McLain added 14 and Shanise Brooks had 10 points and 10 rebounds.
Seward is 12-5 overall and 3-1 in the Jayhawk West while Cloud is 13-4 and tied for first with Hutchinson at 3-0. The Lady Saints host Dodge City Saturday at 6 on B107.5 and kscbnews.net. Billy's is the buyout sponsor.
Sun. Jan. 13
D1#10 Garden City def Colby 68-47*
Sat. Jan. 12
D2#1 Highland def Brown Mackie 87-80**
Allen def Fort Scott 64-57*
D2#3 Johnson County def Cowley 62-52*
Coffeyville def Neosho County 50-36*
Butler def Barton 74-56*
Independence def Labette 84-29*
Pratt def Dodge City 84-80* OT
Cloud County def Seward County 65-55*