Cloud Finally Breaks Through in Green House
KSCB News - February 14, 2011 7:19 am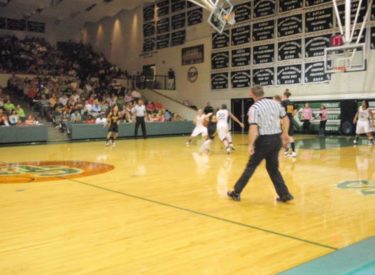 Cloud won an NJCAA championship in 2001 under current coach Brett Erckenbrack. But they had never won in the Green House. That changed Saturday night as Cloud spoiled Seward's homecoming with a 65-57 win in front of another big crowd in the Green House. Cloud (17-6, 8-3) led 33-22 at halftime. The sluggish start puzzled head coach Toby Wynn. "I'm just disappointed to have a crowd like this come out and support our team and we start the game the way did and play the first half the way we did was just very disappointing."
Seward's chances of playing at home in the first round of the Region 6 Tournament have all but evaporated now. They need to win out and have Butler lose two of three to Pratt, Colby, and Cloud plus Seward would have to win in El Dorado. The Lady Saints are 17-10 overall and 7-6 in the Jayhawk West.
Seward's offense failed them again. They shot just 33 percent and were out rebounded by eight. Seward settled for three pointers and were 5-22 from three point range. Mariah Lee scored 19 and grabbed 11 rebounds. Ashlynn Knoll dropped in 15. Seward plays Sunday at 2 p.m. in Dodge City on B107.5 and kscbnews.net.
Sat. Feb. 12
Kansas City KS def Neosho County 67-39*
D2#2 Johnson County def Allen County 79-38*
Cottey College MO at Hesston 2:00
Coffeyville def Highland 87-47*
Cowley def Labette 69-63*
Pratt def Dodge City 73-56*
Garden City def Colby 78-63*
Barton County def Butler 67-61*
#5 Independence def Fort Scott 70-48*
Cloud County def Seward County 65-57*