Closings, Cancellations, Postponements for Jan. 28, 2020
Joe Denoyer - January 27, 2020 2:57 pm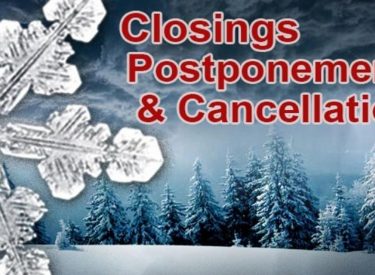 Liberal City Commission Meeting postponed until later in the week.
Liberal USD 480, No School on Tuesday January 28th
USD 209 Moscow no school
USD 210 Hugoton no school
USD 507 Satanta no school
USD 452 Stanton County no school
USD 374 Sublette no school
USD 214 Ulysses no school
USD 217 Rolla no school
USD 483 Plains Kismet Southwestern Heights no school
Guymon schools no school
Balko Schools no school
Turpin Schools no school
Hooker Schools no school
Tyrone Schools no school
Forgan Schools no school
Perryton Schools 2 hours late
USD 210 Elkhart 2 hours late
Liberal Memorial Library is closed
Studio 3 Salon is closed
Weight Watchers will not meet Tuesday Jan. 28
LIBERAL ACTIVITIES
Because of the district closing on 1/27/20, the bowling team will not travel to Great Bend tomorrow. That contest has been rescheduled for Thursday 1/30/20 at 3pm.
City offices in Liberal closed for non essential personnel.  Police, fire, street crews will be out and working.
City Bus in Liberal closed Tuesday
Southwest Guidance Center closed Tuesday
SCCC Campus closed Tuesday January 28 due to impending weather.
Liberal Childcare Learning Center closed Tuesday January 28.
VFW is closed and Bingo is cancelled for Tuesday Jan 28.
Seward County offices closed Tuesday
Liberal Senior Center will not be delivering Friendship meals on Tuesday, January 28th.
Important Announcement for all employees from NATIONAL BEEF LIBERAL, KS.
Services for John Cannaley delayed to Wednesday at 10.
• All day shift hourly employees will have a one hour late start tomorrow Tuesday, January 28th.
• B-shift will start at regular start time.
ANUNCIÓ IMPORTANTE PARA TODOS LOS EMPLEADOS DE NATIONAL BEEF DE LIBERAL, KS.
• Todos los empleados del turno de la mananan entraran una hora mas tarde mañana martes 28 de enero.
• El turno B comenzará a la hora de inicio regular.